Back to the News Page
"The continued shift from on-premise licence software to subscription-based SaaS models, in conjunction with the increased need for new software collaboration tools during Covid-19, is driving SaaS growth" – Gartner
The public cloud services market continues to grow at a robust clip, according to the latest report from Gartner. The top research and advisory firm predicts that the cloud market will grow 6.3% this year to US$257.9 billion, up from US$242.7 billion in 2019.
Subscription-based Software as a Service (SaaS) is forecast to reach nearly US$105 billion globally this year, maintaining its position as the biggest chunk of the overall cloud market. In the time of the current pandemic, it is unsurprising that Desktop as a Service (DaaS), which powers remote workers, will be the fastest growing segment, although still modest in size at US$1.2 billion.
Infrastructure as a Service (IaaS) will reach $50.4 billion, growing at 13.4%, Gartner says. Companies around the world are showing legacy infrastructure the exit door in order to become nimbler in uncertain times, and IaaS is the obvious alternative.
The runaway growth of cloud does fan concerns about the need for the cybersecurity industry to keep pace with the growth of SaaS, DaaS, and IaaS. A separate report by Cybersecurity Insiders, in partnership with security firm Check Point, found that the growth of cloud has made 75% of cybersecurity professionals concerned about parallel security challenges. Critical areas of worry include misconfiguration, the absence of qualified staff, budgetary constraints, data privacy, and lack of integration with existing security infrastructure.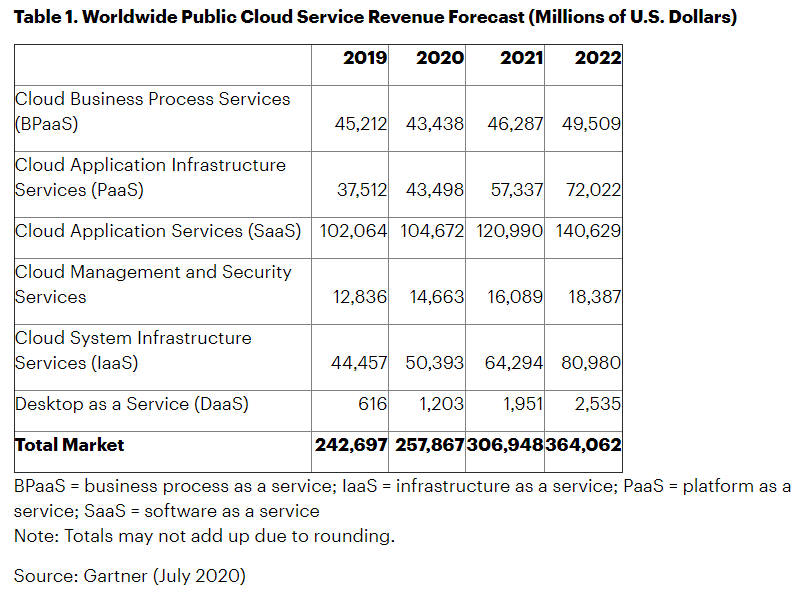 In a significant signal that Australia's Federal Government – the biggest user of cloud infrastructure in the nation – takes both cloud and cyber security very seriously, the Commonwealth has earlier this month launched its much-anticipated Cyber Security Strategy 2020. This comprehensive strategy flags spending of A$1.67 billion in Federal cybersecurity over the coming decade. A crucial inclusion is a A$63.4 million plan to assist small and medium enterprises (SMEs) to upgrade their cybersecurity capabilities. Overall, the new Cyber Security Strategy is a sign of the Commonwealth's commitment to both cloud and cyber security, and is expected to further propel the growth of cloud in Australia.
The positive trends for the cloud market make it the one winner amidst a general slowdown in overall IT spend in 2020. Cost scale with use and deferred spending are conspicuous advantages for companies as the coronavirus pandemic continues to roil economies, Gartner says.
At MyTreasur-e, we are proud of the outstanding reliability and security of our SaaS treasury management software, built on the largest and most secure cloud infrastructure platform in the world: Amazon Web Services (AWS). To ensure that our customers can rest easy that their treasury management needs are in good hands, the MyTreasur-e team keeps a close, responsive eye on global and local cloud and cybersecurity trends.